Morning pool 17-32, Afternoon pool 1-16
Datum: Montag 11 mai 2020 - Sonntag 31 Mai 2020
Karte anzeigen
Pool 1-16, the south part runs down to the sea.
Pool 17-32, the north part surrounded by beautiful beech woods.
Please note that zone limitation do apply May 11th - 31st.
Change of pools at 13.00.
Mehr anzeigen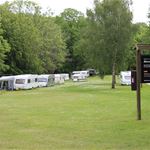 Camping
Entfernung: 235 Meter
Our camp sites for tents and campers in Mörrum are located right by the riverside in a beautiful setting. Choose your date in the calendar.