Fishing premiere in the river Mörrum, 2 nights
Date: Friday 26 mar 2021
Show map

In March the season starts in Mörrum with canon salute shooting. This old tradition is welcoming both spring and the new season. In the lower part of the river you'll find both non-migrant fish and some strident, shiny steel sea trouts.
Stay at our accommodation here in Mörrum and fish in both "Södra 1-16 & Norra 17-32" and on our upper stretches – give yourself the luxury of an early and classic start to the season 2021!

Schedule:
On Friday 26/3you can check in during the afternoon up until 4.30pm at "Laxens Hus" in Mörrum. At 5pm we meet in our conference room to discuss strategies for the fishing experience to come, and after that we enjoy a dinner together.

On Saturday 27/3 we start with breakfast together with a view over the river, and after that the fishing begins at 9am in "Södra 1-16" during the morning. At lunch time we then meet at Restaurant Kronolaxen for catch reports and exchanges of experiences, and then we will continue to fish in"Norra 17-32" during the afternoon. Two guides will be available during the day for those in need of guidance. The day finishes at 5pm, afterwards we will have dinner together.

On Sunday 28/3 the fishing continues. This day the participants have an exclusive fishing license valid for all stretches of the river (free choice of fishing sections). Check out is done before lunch time, but you are allowed to fish from 5am to 2am the next morning. Two guides will be available for the group up until after lunch.

Included: Accommodation 2 nights at Mörrum Kronolaxfiske (basic standard, shared room, bed sheets included, cleaning & check out at the latest 11am), two guides (Sat-Sun), fishing license for the premiere day 27/3 ("Södra 1-16" in the morning and "Norra 17-32" in the afternoon) and 28/3 ("Södra 1-16 & Norra 17-32" + Vittskövle, Knaggalid and Härnäs), breakfast 2 mornings (Sat-Sun), lunch 2 days (Sat-Sun), dinner 2 evenings (Fri-Sat).


Level: This package does not include the basics of casting technique. Participants need to be able to handle a fly/spin fishing rod adequately.

Course dates: 26-28 March 2020
Availability: 6
Price: 5290 SEK/person
Show more
Book now - choose start date and product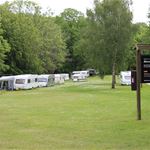 Camping
Distance: 9 meters
Our camp sites for tents and campers in Mörrum are located right by the riverside in a beautiful setting. Choose your date in the calendar.