Spring in Mörrum
Date: Thursday 15 apr 2021 - Saturday 17 Apr 2021
Show map
In the middle of April the sun heats up both air and water, the wood anemones are in bloom along and the trout are preparing for their return to the Baltic. Both non migratory winter fish and freshly risen fish will be active at this point of the season.
To maximize your chances of success this package offers access to "Södra 1-16 & Norra 17-32" and the upper stretches of the river. If you are in the right place at the right time, with the correct tackle then you should catch sea trout! Welcome the spring on the river Mörrum!

Schedule:
On Thursday 15/4 Check in at Mörrum's Kronolaxfiske during the afternoon between 2pm-4.30pm. At 5pm we meet in our conference room to discuss strategies for the fishing experience to come.

On Friday 16/4 breakfast is served at Restaurant Kronolaxen. Your fishing will begin at about 8.30 a.m. The location of your fishing will be dictated by the existing conditions or any specific wishes you may have. After lunch you can fish on as late as you like (until 2 a.m. on the Saturday morning). One guide will be available until 4 p.m.

On Saturday 17/4 Breakfast & lunch at Restaurant Kronolaxen. This day you fish on your own without a guide.

On Sunday 17/4 Breakfast & lunch at Restaurant Kronolaxen. This day you fish on your own without a guide.

Included:
Accommodation 3 nights (Thu-Sun) at Mörrums Kronolaxfiske, 3 nights (basic standard, shared room, bed sheets, cleaning and check out must be done at the latest 11 a.m.), breakfast 3 mornings (Fri-Sun), 3 lunch (Fri-Sun), 1 guide available during friday, fishing license 3 days for "Norra 17-32 & Södra 1-16" + Vittskövle, Knaggalid and Härnäs (Fri-Sun).

Level: This package is not a casting course. The participants need to be able to handle fly or spin adequately.

Package dates: 15-18 April 2021
Availability: 4
Price: 4390 SEK/person
Show more
Book now - choose start date and product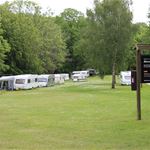 Camping
Distance: 9 meters
Our camp sites for tents and campers in Mörrum are located right by the riverside in a beautiful setting. Choose your date in the calendar.