Casting course for double handed rod, 1 day
Date: Monday 7 sep 2020 - Wednesday 30 Sep 2020
Show map
To fish for salmon and sea trout with a fly and a double handed rod is an amazing experience. To learn how to cast together with an instructor and new found friends is considerably easier than on your own.
In focus this day is the casting technique for both beginners and for those who wish to immerse themselves. We'll also have a look at equipment selection in order to optimize the cast.
Welcome to an exciting and informative day by the river Mörrum!


Schedule:
The course starts 9am at Laxen's Hus in Mörrum. Except for a lunch break we will spend most of the day on casting technique which thoroughly is built up from basic exercises (rolling cast) to more advanced ("speycast"). Also various parts of the equipment are brought up and how they can help you to improve your fishing. The course finishes at 5pm, with the opportunity to continue fishing during the night. An instructor is adapting the exercises of the day given individual needs. This means the course suits both full beginners as well as experienced anglers who want to improve their cast even further.

Do you wish to stay one or two days and continue fishing? Make reservations for permits and accommodation through our information desk at +46 454 50123 or on our webpage (www.morrum.com). Should you have a long trip to Mörrum you can also extend your stay with another night before course start.


Included:
Fishing permit for pool 1-32, guide and casting instructions, lunch. Equipment included when needed (rod, reel, lines and waders). The fishing guide app for pool 1-32 is included as well.

Course dates: Can be booked all weekdays except bank holidays and weekends.
Availability: 3 per occasion
Price: 2'990 SEK/person
Show more
Book now - choose start date and product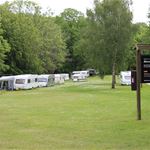 Camping
Distance: 9 meters
Our camp sites for tents and campers in Mörrum are located right by the riverside in a beautiful setting. Choose your date in the calendar.