Large sea trout in August dusk, 2 nights
Date: Thursday 20 aug 2020
Show map
In August the famous large sea trout rise in the river Mörrum. Fishes between 70-85 cm are common at this time of the season.
In cover of the dusk the sea trout often moves close to land on its migration, you don't have to cast far, but proper equipment and the right location can be crucial.
Here you take part of fly patterns, fishing techniques and fishing spots which often leads to catches in the river Mörrum. Welcome!


Schedule:
Thursday 20/8Check in at Mörrum's Kronolaxfiske between 2pm-3pm. At 3pm we meet in our conference room to discuss strategies for the fishing experience to come. Fishing from around 4pm on selected parts of the river. Dinner is served by the river. The guides are with you until 9pm, but you can continue to fish up until 2am.

Friday 21/8 Breakfast is served at Nina's Konditori. You fish on your own in the morning. We meet again at 2pm to choose our fishing spot according to preconditions and requests. Dinner out by the river and fishing together until 9pm. Fishing can still be beneficial after dark though.

Saturday 22/8 Fishing on your own after breakfast (without guides), no longer than to 2am. Would you like to stay overnight and maybe continue the fishing on Sunday? Make your reservation via the information desk at +46 454 501 23.


Included:
1-2 guides during 2 afternoons/evenings (Thu-Fri), accommodation 2 nights at Mörrum's Kronolaxfiske (basic standard, shared room, bed sheets included, cleaning and check out made no later than 11am), fishing permit 3 days (Thu-Sat) for pool 1-32 + Vittskövle, Knaggalid and Härnäs (the upper fishing sections), breakfast 2 days (Fri-Sat), 2 dinners outside by the river (Thu-Fri).

Level: The package does not include instructions for basic casting techniques, some experience of fly fishing is given.

Course dates: 20-22 of August 2020
Availability: 6
Price: 3'990 SEK/person
Show more
Book now - choose start date and product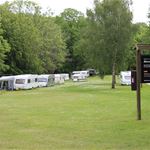 Camping
Distance: 9 meters
Our camp sites for tents and campers in Mörrum are located right by the riverside in a beautiful setting. Choose your date in the calendar.