Autumn fishing in Härnäs, 2 nights
Date: Thursday 17 sep 2020
Show map

The upper part of the river Mörrum runs through a valley and a nature reservation. Both salmon and sea trout find their way here during late summer and when the temperature comes down a little in September the fishing can become really good.
We want to take you with us to Härnäs to show you this magnificent fishing stretch and guide you to the hot spots of these fine pools. Come along to enjoy some challenging fishing in a grand, unspoiled nature!


Schedule:
Thursday 17/9 We meet at Mörrum's Kronolaxfiske where you can check in from 2pm-4.30pm. At 5pm we meet in our conference room to discuss strategies for the fishing experience to come.

Friday 18/9 After breakfast we divide the group in two to take turns fishing the upper/lower part of Härnäs. We'll have lunch by the river and then we'll change places. Two guides will be at your disposal during the day.

Saturday 19/9 After breakfast we continue fishing on the Härnäs stretch. You'll fish without a guide this day. Your fishing permit is valid the whole day and also for the stretches Vittskövle and Knaggalid if you wish to try out additional fishing areas.
Do you wish to stay another night in the accommodation and maybe continue fishing for one day more? Make your reservation separately through our information desk on +46 (0)454-501 23 or online at www.morrum.com.


Included:
Accommodation at Mörrum's Kronolaxfiske 2 nights (Thu-Sat, basic standard, shared room, bed sheets included, cleaning and check out done at the latest at 11am on the departure day), fishing permit for 2 full days (Fri-Sat, Vittskövle, Knaggalid and Härnäs), breakfast 2 mornings (Fri-Sat), 1 lunch out by the river (Fri), 2 guides during Friday.

Level: This package is not a casting course. The participants need to be able to handle fly or spin.

Package dates: 17-19 of September 2020
Availability: 6
Price: 2'990 SEK/person
Show more
Book now - choose start date and product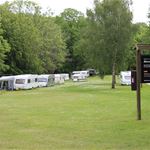 Camping
Distance: 9 meters
Our camp sites for tents and campers in Mörrum are located right by the riverside in a beautiful setting. Choose your date in the calendar.