Fly fishing course for two handed rod 2 nights, only for women!
Show map
To fish for salmon and sea trout with a fly and a two handed rod is an amazing experience. To learn how to cast together with an instructor and new found friends is considerably easier than on your own.
In focus this weekend is the casting technique for both beginners and for those who wish to immerse themselves. We'll also have a look at equipment selection and fishing strategies for various spots. Welcome to an exciting and informative weekend by the river Mörrum!


On Thursday 23/4 we meet at Hallandsboda B&B at 5pm to dine together and discuss equipment and fishing strategies for the river Mörrum. Check in is open between 2pm-4.30pm.

On Friday 24/4 we begin with breakfast, then the course starts at 9am. Except for a lunch break we will spend the day on casting technique which thoroughly is built up from basic to more advanced exercises. The course finishes this day at 5pm, with the opportunity of continuing fishing after dinner. Two guides/instructors will be at your service during the day in case anyone should need individual coaching.

On Saturday 25/4 after breakfast we will repeat some casting techniques, then we will go through valuable fishing strategies to optimize the chances of catching a fish. During the rest of the day it is up to you to choose between continuing with the casting techniques or moving on to some exciting fishing. Check out is done at the latest 11pm and the course finishes after lunch, but you're allowed to fish until 2am. (Do you wish to stay until Sunday to continue fishing? Make a reservation through Hallandsboda B&B +46 703068705 or by email: Info@hallandsboda.se


Included:
Accommodation 2 nights (Thu-Sat) at Hallandsboda B&B (basic standard, shared room, bed sheets included, check out at the latest 11am) breakfast 2 mornings (Fri-Sat), lunch 2 days (Fri-Sat), dinner 2 evenings (Thu-Fri), guiding by 2 guides (Fri-Sat), fishing permits 2 days (Fri-Sat) in pool 1-32 + Vittskövle, Knaggalid and Härnäs, depending on where the fishing is best for the season. Equipment included when needed (rod, reel, lines and waders).

Course dates: 23-25 of April 2020
Availability: 4 per occasion
Price: 3'990 SEK/person
Show more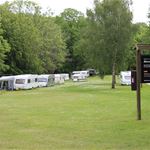 Camping
Distance: 13.2 km
Our camp sites for tents and campers in Mörrum are located right by the riverside in a beautiful setting. Choose your date in the calendar.